One of the specialties we have at Partners for Impact is evaluation. The team is qualified to evaluate programs, organizational related change initiatives, and community change initiatives. The Lucy Daniels Center and Resources for Resilience asked Partners for Impact to evaluate the Circle of Security Parenting (COSP) in North Carolina. Partners for Impact uses the modified socio-ecological model (SEM) to more clearly focus conversations on inequities created by systems1. More typical models of direct services put parents and children at the center, placing the burden to change on the child and their primary caregivers. This focuses programs on the choices that caregivers make while relieving the system of responsibility for the limited options that many caregivers have.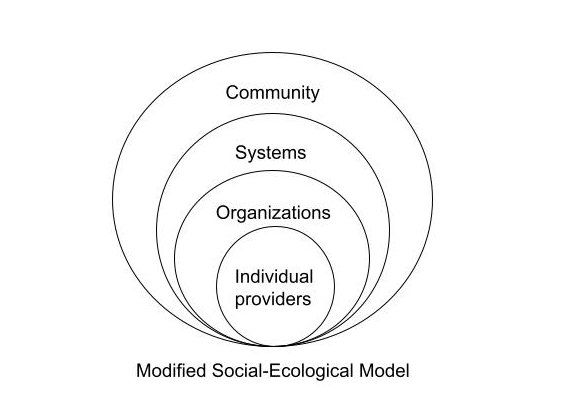 By placing individual professionals working with families and children at the center, the modified socio-economic model changes the outcomes from fixing families to impacting the people charged with supporting them – or holding them, in the language of COSP. These concepts can cascade to organizations through policies and practices that support and hold staff. When these organizations begin functioning differently, they can influence the systems within which they operate. This true systemic change can then reduce inequities that unfairly burden children and their caregivers, and create new structures that better meet their needs.
In this evaluation of COSP (click here for the full report), the innermost level of the SEM represents the individual providers working with families and caregivers. This includes people facilitating COSP in groups or in one-on-one settings; it also includes teachers and staff from service agencies who have completed the program and are using it in their work with children and families. The organizational level includes the agencies employing or contracting the facilitators delivering COSP and the organizations employing the teachers and staff who have completed the program. The systems piece represents those larger entities and interrelated networks in which the organizations operate that affect how and to whom they provide services, e.g. education, mental health, early intervention. Finally, the community level in this model represents the larger population impacted by the intervention. In this evaluation, this level comprises the children, families, caregivers, and other community members who benefit from increased attachment.
1  McLeroy, K. R., Steckler, A. and Bibeau, D. (Eds.) (1988). The social ecology of health promotion interventions. Health Education Quarterly, 15(4):351-377.